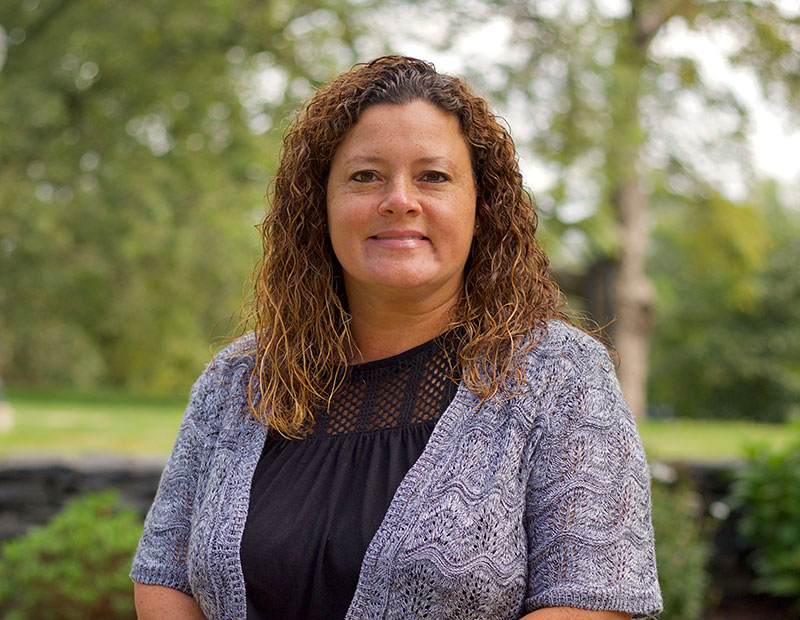 Judy Lopez is well on her way to earning her Bachelor's degree 12 years after completing her Associate's degree. She credits her children—and the UConn Bachelor of General Studies program—for her recent return to school.
Judy Lopez
Jurybell Lopez, Judy to her friends, was putting her children through college when she decided it was her turn. After 12 years of being out of school, and after a lot of personal introspection, she finally took the plunge. In 2015, she was on her way to earning a degree through the Bachelor of General Studies (BGS) program
Judy's three kids are older now, but when her oldest son started college, she remembers saying to herself, "I want to finish my degree too!" That was six years ago. She hemmed and hawed, thinking no, not this year, maybe next year. Finally in 2015, she decided the time was right and she applied to the University of Connecticut's (UConn) Bachelor of General Studies program.
It had been 12 years since Judy received her Associate's Degree from Manchester Community College in Manchester, CT. "I really hadn't thought about completing my degree, especially with raising three children and working full time. But when my son started at UConn, that's when I realized that I needed my degree in order to take my career to the next level."
Perhaps the best advice her UConn Academic Counselor Pat Harkins offered was to take it slow. As Judy recalls, "Pat went over all of the requirements with me and how classes I had taken as part of my Associate's degree would transfer over. She suggested that I start with a more manageable course, like Women in History, versus a science or math class, just to get my feet wet." And adds Judy, "Pat has been great. She's always there for me. I just send her an email or call her, and she responds right away."
By the time Judy started the BGS program, she decided she wanted a change of pace from her job at a local insurance company and applied for an entry-level position on the UConn Storrs Campus. She was hired to work in financial systems, but she knew she wouldn't be able to go much further without a degree. As she says, "It might be okay in the private sector to not have your degree. But in academia, it's mandated. You have to have a four-year undergraduate degree to move up when you work at a university."
Judy lives in Manchester, which is half way between UConn's Storrs and Hartford campuses, both of which offer the BGS program. So she floats between campuses, taking courses at both. "There are so many great options to choose from. If I'm looking for a course that starts after 6 p.m., I can usually find it on the Hartford Campus, which is more of a commuter school and offers more evening options than Storrs." And she adds: "The new Hartford Campus, which opened this summer, is just beautiful. They completed renovated the old Hartford Times building and moved the entire campus from West Hartford to downtown Hartford. It's so accessible too, with a bus stop right out front."
Today, Judy has just 12 courses to go to complete her degree, 2 of which she'll take to fulfill her language requirement. "In a traditional college, you typically have to take four semesters of a language. With the BGS program, I just need two. And that's doable."
So does Judy find it challenging to juggle work and school? She admits that initially, it was a big adjustment. "When I started, I was a little worried because I wasn't used to going to school. You do have to be disciplined enough to keep up with homework and writing papers."
Since she works full time at UConn, she typically takes only one or two courses a semester. Her goal is to finish by 2020, when her youngest finishes college. "I knew it would take awhile to earn my degree," says Judy. But as she explains, she saw some of her coworkers from her previous job who didn't want to go back to school, even though her employer offered a tuition reimbursement program. "I didn't want to be sitting in the limbo pile, just waiting another 20 years until I could retire. I am looking at the next phase of my life. The years go by anyway, so why not do something worthwhile like returning to school?"
Seeing her children succeed in school has been a driving force for her to keep at it. As she says, "My kids motivated me to go back to school. And seeing their success continues to inspire me to keep going."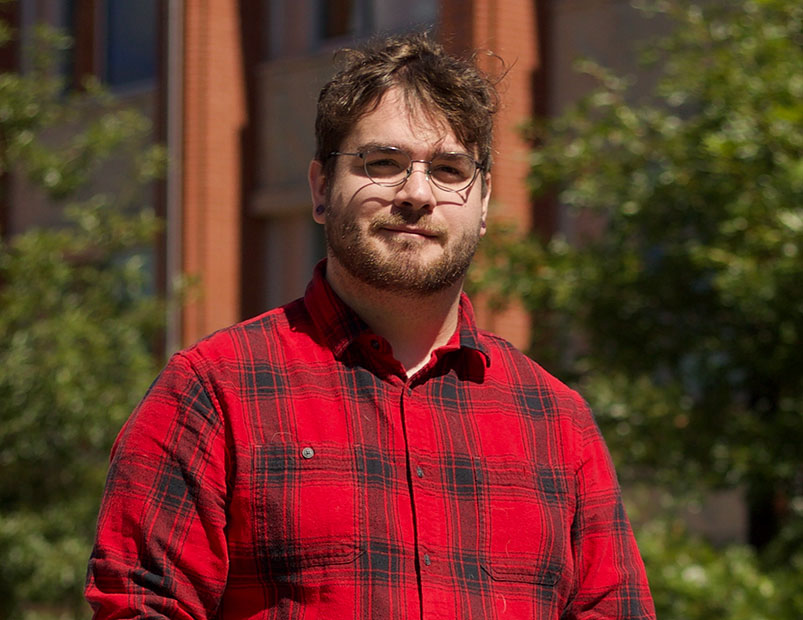 Michael Brockett is well on his way to graduate school, thanks to his determination to complete his degree—and thanks to the Bachelor of General Studies degree program.
Michael Brockett
Michael Brockett knew he wanted to go back to school and finally earn his degree. But he didn't have enough credits to transfer into a traditional college program. Fortunately, he leaned about the Bachelor of General Studies program through the University of Connecticut's Admissions Office. Today, he's completing his final year and plans to apply to graduate school next year.
Going straight through four years of college isn't always possible—or economically feasible. Just ask Michael Brockett. In 2010, he started at Quinebaug Valley Community College and took numerous courses over the following two years. But when he ran out of money, he hit the streets to find a job. Shortly after, he was hired to work at the retail stores located at Mohegan Sun.
A few years later, Michael realized that he really wanted to complete his degree. Naturally, he turned to the University of Connecticut, just 20 minutes from his home in Hampton, Connecticut. But as he recalls: "I couldn't even apply into a traditional program because I didn't have enough credits to transfer in as a junior. I felt very discouraged. But thankfully, a wonderful woman in the Admissions Office suggested I check out UConn's Bachelor of General Studies program."
That recommendation launched his return to college! In fact, he's now well on his way to graduate in the spring of 2018, after which he is going to apply for graduate school in social work. So how did it all come together?
"My Academic Advisor, Pat Harkins, went through the process with me and helped me understand how I could return to college while working, and take courses on my own schedule," says Michael. "We talked about my career aspirations and she came up with a plan that would allow me to fulfill the BGS requirements, while maintaining a strong course profile so I could apply to graduate school. And she helped me figure out how to balance my course load with my work life to make sure I would be successful."
Michael admits that it was overwhelming at first. After all, he'd been out of school for three years. But, he says: "The BGS program gave me a lot of freedom to explore topics in my areas of interest, which wouldn't have been as easy to do with all of the requirements of a traditional degree program."
Thanks to Pat's guidance, Michael will earn a minor in psychology in addition to his BGS degree. As he explains, some of the upper level courses he was most interested in were restricted to students whose major or minor is in Psychology. "When Pat suggested the minor idea, I was able to attend higher level classes in my area of interest that would not have been open to me. I never would have known to do that without her help."
Over the past two years, Michael has taken courses during the fall and spring semester—and in the summer, too. He's also taken a few evening classes here and there. Most importantly, because of the flexibility of the BGS program, he didn't have to take courses, like calculus, that didn't apply to his long-term focus. "I have more courses on my transcript that apply directly to social work because of the BGS program," he notes, and adds: "I am older, but I don't feel like I'm any different than the kids in class. I've also had the opportunity to meet other BGS students, especially this past summer during a research course I took. They told me they felt very supported by UConn as well."
Pat also helped Michael find employment on the Storrs Campus. Today, he's an audio/visual specialist, for which the university trained him from scratch. He works full time during the summer and about 25 hours a week during the school year, which leaves him time to take three courses each semester.
In conclusion, he says: "The BGS program changed my life in such a big way. I did feel discouraged initially, but when I found out about the program, I remember saying to myself, 'Yes, I can do this! Yes, I can apply to graduate school!' The strong support I received diffused my feelings of being discouraged. I am hoping to apply to UConn's School of Social Work when I graduate next spring. The truth is, if it weren't for BGS and for Pat, I might still be working at Mohegan Sun."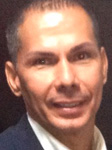 Adept at multi-tasking, Cruz is currently pursuing a Ph.D. in Public Health at Walden University. He credits his UConn education for the discipline and academic foundation needed to earn his doctorate degree.
Robert Cruz
When Robert Cruz BGS '08 enrolled in UConn's Bachelor of General Studies (BGS) program his goal was to become a healthcare administrator at a hospital or healthcare setting. With his BGS degree as a stepping stone, Cruz continued making inroads towards his dream by earning a Master's of Public Health (MPH) degree at the UConn Health Center in 2010. Cruz achieved his dream in September 2012 when he landed the position of Vice President of Corporate Compliance for Metro Healthcare Management System, Inc. in his native Puerto Rico.
"My academic background from UConn, which includes my Bachelor of General Studies and Master of Public Health degrees, helped a lot in getting this position, because I had a solid healthcare management and public health foundation, in addition to experience in the insurance, healthcare and public health areas," Cruz explains. "Both degrees exposed me to different experiences in the healthcare field, and gave me the opportunity to be supported by and collaborate with an excellent group of faculty and academic advisors who guided me along the way, taking into consideration the demands of a working adult and my professional goals."
When Cruz moved from his native Puerto Rico to New York City in 1988, he was accepted to the Pre-Med program at NYU. Family finances put an end to that dream, but he never gave up. In 1991, he attended Kingsborough Community College (CUNY). Financial demands made him take another hiatus from his education, until he earned a Certificate in Healthcare Administration at NYU in 2001.
Cruz returned to college as a full time student in 2005 at Borough of Manhattan Community College (CUNY) where he made the Dean's List each semester while working full time. He also volunteered as an English as a Second Language instructor at the United Senior Center in Brooklyn, teaching senior citizens the basics of English.
Cruz never gave up on his goal of earning a Bachelor's degree. When he moved to Connecticut in 2006, he enrolled in UConn's Bachelor of General Studies program.
"After meeting with an advisor at UConn and witnessing its diversity, I had a pretty good idea that this was the place for me," Cruz says. "The BGS program gave me the opportunity to combine my prior college credits into a program that allowed me to pursue an individualized focus in Healthcare and Urban Studies."
Cruz took classes days, evenings and weekends so he could continue to work full time as a Client Services Account Manager at United Health Group. "The courses at UConn have all been optimal and challenging," he says. "Classes made me analyze the information learned and apply it to my daily life. I wasn't just learning concepts; I was finding functionality to what I learned. I met great individuals and professionals and became more knowledgeable of the healthcare and urban issues affecting our communities."
During Cruz's academic career as a BGS student, the University Continuing Education Association (UCEA) named him Outstanding Continuing Education Student for New England, an award based on: academic excellence; student activities; university involvement; community contributions; employment; and personal and career goals. Cruz carried a challenging academic course load, while maintaining a 3.856 GPA, working full time, and conducting volunteer work.
Adept at multi-tasking, Cruz is currently pursuing a Ph.D. in Public Health at Walden University. He credits his UConn education for the discipline and academic foundation needed to earn his doctorate degree.
"The Bachelor of General Studies program gave me the necessary tools to start a new career path with a strong and solid platform," he says. "The UConn Master in Public Health degree provided a solid public health foundation, both academically and professionally, and prepared me for the rigorous academic demands of a Ph.D. program. Without my UConn Bachelor of General Studies and Master of Public Health degrees, I wouldn't be where I am professionally."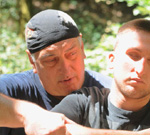 Now that Diaz has his degree, his goals are to earn a Master's in Education and teach at-risk youth. Selected as a 2013 member of the Teach for America Corps, he has been teaching inner city elementary school children.
Personification of the Indomitable Spirit
Roberto "Bo"Diaz
Losing his sight in a line-of-duty injury as a Bridgeport fire fighter would have knocked the wind out of the sails of a lesser man, but not Roberto "Bo" Diaz, BGS '12. Forced to retire in December 2009, he decided to pursue a career as a teacher and enrolled in UConn's Bachelor of General Studies (BGS) program in January 2010.
"I went to school right away against the advice of people who were blind far longer than I had been," Diaz explains. "But I was stubborn and went ahead and struggled because I didn't know how to type, didn't have any computer skills, and wasn't familiar with accessible and adaptive technologies. My reasoning was, 'Who taught the first piano player how to play?' So I just dove right into it, worked very, very hard, and had a surprising amount of success."
A surprising amount of success is an understatement. Diaz made the Dean's List every semester, graduated with a 3.84 GPA, won three scholarships, was inducted into several honor societies, won the 2012 UConn Outstanding BGS Student Award, and in Fall 2012, won the New England Region Outstanding Student Award from the University Professional and Continuing Education Association (UPCEA).
Diaz credits his success to the BGS program, which understands and accommodates the needs of adult students, and his BGS counselors who acted as advocates throughout his academic career. The BGS program accepted previous credits from college courses he took during his career as a Marine, and he knew it would help him fulfill his dream of teaching.
"Pursuing a career in education, the interdisciplinary nature of the curriculum affords you the opportunity to be versatile, and the coursework is extremely relevant to the complexities of real world social issues," he says. "The BGS program was very fulfilling and very challenging without being overwhelming."
He is also appreciative of UConn's Center for Students with Disabilities, which provided note takers for his classes, and the UConn professors who motivated him to do his best.
"I had some brilliant minds lending me guidance in the classroom," he says. "Being back in an academic environment after 28 years, I was fortunate to have Professor Sam Robinson, who personifies the vision of academia. He encourages students to ask themselves 'What's at stake and what are the consequences if you fail?' That was a shot of adrenaline that centralized and recharged my focus."
Although Diaz has some vision in his left eye (which washes out 100% periodically due to a number of conditions), his limited vision halted his active lifestyle as a fire fighter, community activist, outdoorsman, motorcyclist, and scuba diver.
"All of a sudden you're going from 60 to zero, and having my income cut by over 50 percent didn't help," he says. "There was the lack of mobility; it was one challenge after another. There are so many things that you take for granted – simple things that become not so simple.
"My family was always in public service, community service, social service, activism, and political office – I've always been self-reliant and a person who helped other people," he continues. "I wasn't used to being in a position where I had to accept help. It was a transition, but I learned to go with the flow and take what life hands you."
Determined to continue his family's tradition of community service, Diaz still teaches archery to children with burn injuries at an archery program he established 20 years ago with another Bridgeport fire fighter at the Arthur C. Luf Children's Burn Camp. When his recertification date came up, he became the first legally blind state certified archery instructor in Connecticut.
He's always thrilled to hear the cries of delight from his young students when they hit the target, but his biggest thrill was earning his Bachelor of General Studies degree in May 2012.
"Earning a degree from the University of Connecticut is a beautiful thing," he says. "I'm proud of myself and what I've done, but it means more to me for providing an example to my daughter, and honoring the memory of my parents who taught me the concept of the indomitable spirit."
Now that Diaz has his degree, his goals are to earn a Master's in Education and teach at-risk youth. Selected as a 2013 member of the Teach for America Corps, he will begin teaching inner city elementary school children in fall 2013.
"This is a dream a long time coming, a dream which became a reality through the care and guidance afforded to me by the wonderful staff and administration of the UConn family," he adds.
"Bo" Diaz has been honored as the recipient of the 2012-2013 UPCEA Outstanding Continuing Education Student Award. This video was featured at the event as Diaz accepted his award.
https://www.youtube.com/watch?feature=player_embedded&v=CCXdX57v-yU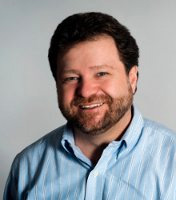 Nathanson now owns and operates New England Physical Care, a successful chiropractic practice in Norwalk.
Dr. Brian Nathanson
When Dr. Brian Nathanson, BGS '02, enrolled in UConn's Bachelor of General Studies (BGS) program in 1999, his original goal was to finish his bachelor's degree and go on to earn an MBA (Master of Business Administration) at the UConn School of Business. But life, as it often does, got in the way of this plans. When his two-year old daughter began having seizures, he spent endless hours in a treatment center in California. After he learned the manual manipulation of her soft tissue led to her recovery, he changed his focus to health care and went on to earn a Doctor of Chiropractic degree at the University of Bridgeport. Nathanson now owns and operates New England Physical Care, a successful chiropractic practice in Norwalk.
He was in his late 30s with an associate's degree in graphics when he discovered the BGS program. "I never went on to finish my bachelors," he said. "It was a nagging thing for years. I felt that an associate's degree wasn't very helpful and that I missed out on so much by never finishing my degree. I kept toying with the idea; looking at online programs." Nathanson experimented, and tried a few classes from other universities, but wanted a degree from a school like UConn.
Nathanson chose the BGS program because it gave him the flexibility to do what he needed to do, even after he changed his focus from business to pre-med. "BGS allowed me to get whatever I needed done," he said. "To get the pre-meds done without going to Storrs, I took biochemistry at West Conn (Western Connecticut State University) and I took physics at Fairfield University. The BGS program allowed me to take those courses. I got a really well-rounded education at UConn; I got to do things I never thought I would do. I had the best time; I loved it. I had an individualized program with a health sciences concentration."
Having a BGS counselor who worked with him to get his prior college credits transferred into the program made it even more attractive. "They took my SUNY associates' degree credits from the 1970s, as well as the 15 credits for business courses at the University of Phoenix, which I took when we lived in San Diego, where my daughter was in the treatment center for seven months. I have six transcripts, with credits from SUNY, UConn, West Conn, Fairfield University and the University of Bridgeport. BGS would accept my credits and tailor a program to get me where I wanted to go."
Nathanson ran his own business and became father to a second child while enrolled in the BGS program, so flexibility was of paramount importance. "BGS allowed me to accommodate those responsibilities and allowed me to fulfill my dream," he said. "Being self-employed, I was able to be at the campus when I had to, get into Manhattan when I needed to, and take the courses I needed, when I needed them. It was great – it was just so user friendly."
Attending college classes as an adult, rather than as a traditional age student, was an eye-opener for Nathanson that enhanced his learning experience.
"Learning at this age is fun," he said, enthusiastically. "When you're 19, it's a task, but at this stage it's, 'Wow! There's so much to learn. This is so much fun.' I loved being there. I had the chance to learn things I never thought I'd learn. I took two history courses with Professor Joel Blatt, who was amazing. His classes were so enriching that I looked forward to the assignments and the papers."
Earning his BGS degree turned Nathanson's life around; both in the pride he feels at earning a UConn bachelor's degree and by setting him on a career path that touches people's lives.
"I'm very proud to say that I have my bachelor's degree from UConn, which is a top school in the nation," he says. "My diploma hangs proudly on my wall, and my work as a chiropractor is very rewarding."
Rather than practicing traditional chiropractic, Nathanson works on soft tissue to help restore range of motion to breast cancer survivors, individuals who have lost limbs, have hip or knee problems, or have restricted motion from injuries suffered in car accidents.
"Without sounding too high and mighty, part of it is you're doing God's work," he says. "You touch people in a way that no one else does and you get them feeling better. With chiropractic medicine, you not only touch your patients, you touch their lives. It's not about money; it's about changing lives."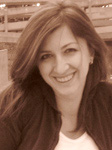 Munira Okovic
Munira Okovic's determination to work for peace in a troubled world is easy to understand. A surviving witness to the horrors of ethnic cleansing in her native Bosnia during the 1990s, Munira arrived in the United States in 2001 during the chaotic week after 9/11
"I always wanted to come to America," Munira said. "I think it's everyone's dream." She applied for political asylum in the U.S., which was granted after an appeal aided by the UConn School of Law's Asylum and Human Rights Clinic. While her asylum application was under review, Munira studied at Norwalk Community College for two years before transferring to the Bachelor of General Studies (BGS) program at UConn in Stamford in 2005.
Friends with positive UConn experiences, Stamford's smaller campus size, and the cost of the program all figured in her decision. "I always wanted to work for a nonprofit organization and I was planning my career path towards the United Nations or working with an NGO (non governmental agency)," she explained. She found an appropriate program at a neighboring university, but was dismayed by the prohibitive price of its tuition. She reached out to Lisa Siebert, academic advisor at UConn-Stamford, who helped Munira fashion a program in international relations and political science that suited her requirements.
As an immigrant working hard to make the most of her new circumstances, she found the BGS program to be a perfect fit.
"At the time I was going to school, I was also working full-time as a nanny," she recalled. "I tailored my schedule around the kids' schedule for the family I was working with. I dropped them off at school in the morning, would go down to Stamford and take classes, go back and pick the kids up from school, go home, and we would all do homework at the same time. If I had a night class, the parents would take care of the kids, and I would go back to the Stamford campus. I liked the flexibility, that I could take classes when it fit my schedule. For somebody who has a full time job or something else going on in their lives, BGS gives you that flexibility. You can still do whatever you need to be doing and get your education at the same time."
Her resolve impressed those around her. "Munira is an extraordinary individual," said Siebert, her BGS advisor. "As a student she stood out, as she was so enthusiastic about her educational experience and thoroughly enjoyed every class that she took. Her thoughtfulness and kindness is exceptional; she is a truly remarkable person. I felt extremely lucky to be able to work with her."
Upon earning her BGS degree in 2007, Munira faced a field where even entry level jobs may require a minimum of years of experience, a catch-22 experienced by many new graduates. She handed out resumes at the United Nations and applied for positions at a variety of international aid organizations, none of which were accepting even volunteer help. Temporarily stymied by the intense competition and a weak economy, she found a job in Stamford with an information technologies company that provides a variety of services to hedge funds and private equity firms.
She is good-natured and philosophical about working in the financial industry, so distant from the nonprofit world she always has in her sight.
"I'm still waiting for the market to recover — and the U.N. to think I'm valuable enough," she said, determined and focused on the future. "I applied for my citizenship. I hope to become an American before the end of this year. That's step number one. Step number two is to get my foot into the United Nations eventually and make the world a better place."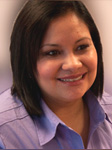 Currently is the Director of Development and Community Support at Waterford Country School (WCS), a nonprofit human services agency that offers a wide range of programs and services for children and families.
Finding a Rewarding Career Path
Julianna Velazquez
Julianna Velazquez had an associate's degree and was working as an administrative assistant at Pfizer in Groton, CT when she lost her job to mass layoffs in 2004. She took a part-time job as a paraprofessional in special education, and knew she wanted to pursue a career that made a difference.
"It took losing my job, working somewhere else, and witnessing the need in families to realize what I wanted to do," she said. "I wanted to do something that would help people, but wasn't quite sure what it was. I enrolled in UConn's Bachelor of General Studies program and began taking classes in human services. UConn gave me the opportunity to explore different topics, rule out the things I couldn't see myself doing, and figure out who I was as an individual and what I really wanted to do."
The BGS program was ideal for Julianna because it allowed her to fit her education into her busy schedule and accepted her previous college credits.
'I was working full time, and raising three children ages 17, 15 and 8 years old," she said. "The BGS program was really flexible and worked with my schedule. My husband and I worked out a schedule where I was able to take courses online, in the evenings, and on Saturday mornings. The BGS program also accepted all my credits from Three Rivers (Community College) and from the University of Phoenix, which I attended for a short time."
Whenever working, raising a family, and pursuing her bachelor's degree seemed to be too much, Julianna met with Dr. Nancy Steenburg, her BGS counselor at the UConn-Avery Point campus.
"Nancy was amazing," said Julianna. "She had a way to reassure her students and was there to support me when I felt overwhelmed. I found a way to break it down so that it didn't seem so overwhelming. She was a great help."
Although Julianna was 36 when she enrolled in the BGS program, she never felt out of place in the classroom. "I felt comfortable in all the classes," she said of her classes that included traditional age students, as well as students her own age and older. "It was a nice balance. It was great because you could hear different perspectives and could understand where students were coming from (why they thought the way they did) because of the generation they came from."
By the time Julianna finished her studies at UConn, she knew she wanted to work in a nonprofit. Two weeks after earning her BGS degree in May 2009, she began graduate studies at Northeastern University, majoring in Nonprofit Management and specializing in human services. After earning her master's degree in April 2011, she was hired as Director of Development and Community Support at Waterford Country School (WCS), a nonprofit human services agency that offers a wide range of programs and services for children and families.
As the community representative and fundraising professional at WCS, Julianna finds grants and community support for activities to supplement the School's programs, which include residential treatment; special education; experiential education; therapeutic foster care; emergency shelter; a safe home and a group home; as well as family preservation and reunification.
She secured a grant from the Community Foundation of Eastern Connecticut for the WCS farm, and the support of a Boy Scout troop, which will build a flight cage for birds. "The kids on campus help with the farm as well," Julianna said. "The animals are therapeutic for our residents who range from ages 3 to 19 years old and have experienced trauma or come from bad situations." A grant from Charter Oak Federal Credit Union enabled the School's shelter program to set up a community partnership with Brio Academy so pre-adolescents and teenagers can improve personal hygiene and grooming and learn how to take better care of themselves.
Julianna credits UConn's Bachelor of General Studies program for setting her onto a career path that she finds challenging and rewarding. "Earning my BGS degree was important because finding a rewarding job is a challenge with only a high school diploma," she says. "I'm willing to go out in the community and ask for anything because it's not for me. It's for these kids that come to Waterford Country School with trauma and pretty much nothing—one suitcase. It's humbling to be here and to be able to help in any way."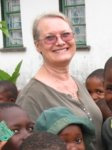 Bringing Hope and Books to Zimbabwe
Relly Coleman
When Relly Coleman, BGS '06, began her studies at UConn, she had heard of a Zimbabwean tribe, the Lemba, which was said to be of Jewish origin. Although she doubted that claim, because of her background — she was raised in Israel and her husband was raised in Zimbabwe—she was intrigued. After three years of trying to make contact with the tribe, she met with a senior tribal elder in a Lemba village when she visited Zimbabwe in May 2005. The elder introduced her to the chief and the tribal elders
Coleman's interest led to an independent study on the Lemba of Zimbabwe as part of her BGS coursework. Her research project substantiated Lemba tradition that they are of Jewish ancestry, most likely originating from the ancient Jewish community of Yemen.
During her visit to the village, the senior tribal elder took her to the local secondary school, the village's "pride and joy," where Coleman immediately noticed the need for books. When Coleman returned to Connecticut, she put together a shipment of 50 books from different disciplines and sent them to the school.
"When we asked the village elders how we could help, we thought they would ask for money to support the people," she said. "But they asked us for books for the children. Even though they were so poor and had so little, they were focusing on education to try to secure a better future for their children. So when we came back to the U.S., I got in touch with a local organization and together we put together a couple of boxes and sent them out and thought that would be it."
But when she received a thank you letter from the headmaster attached to a long list of additional books that the school needed, she founded an initiative called "Books-for-Zim." During the next seven years, with donations from local school systems, library book sales, textbook publishers, and private individuals, Coleman shipped 6000 pounds of books that included multiple copies of biology, physics, education, history, English, and math textbooks, as well as dictionaries and other reference books to eight schools in different villages in Zimbabwe.
When Coleman started Books-for-Zim, the secondary school in the village only went up to 10th grade. Within several years of receiving books from Coleman's initiative, the school was given accreditation to extend it to 12th grade, and was accredited to have students take "A level" (University entry) exams.
"That opened up many opportunities and also meant that girls, as well as boys, could take the exams," she said. "Before that, if a family had the resources to send a child to boarding school for the 11th and 12th grade, they would only spend their money on a boy. Now both boys and girls can stay in school to 12th grade, get a high school diploma, and take the A level exam."
Another issue Coleman is trying to address is the loss of Lemba traditions, history, and culture with the death of the tribal elders. "This is an oral culture and with every elder that dies, traditions are lost," Coleman said.
To keep that knowledge from dying out with the elders, Coleman introduced literary contests in the elementary and high schools to encourage young people to talk to their parents and elders and learn the tribe's history, customs and traditions.
"We're hoping the literary prize will encourage intergenerational dialogue so that the young ones will go to their parents and to the elders, ask about the tribe and their customs, and then write about it and give a voice to the tribe," she said.
Coleman returns to Zimbabwe every 18 months and is still amazed by the impact both she and Books-for-Zim have had on one small African village.
"It's really rewarding to know that something that we do here makes such a difference somewhere across the world," Coleman says. "Here I'm just playing around in my garage with some books, and when you go to Zimbabwe, you realize what a difference it makes there. It makes you not only appreciate what we have here; it teaches you that if each one of us would do a little bit for somebody else, we can have a major impact on the world.
"I love Africa; I love their culture," she adds. "The people of Zimbabwe are very good natured people; they're creative; they're very resourceful; they're very intelligent. This is why if you just inject a tiny little bit of hope, they take it and build so much upon that tiny little bit of hope. I've learned a lot from them, and think I'm a better person from being involved with them."