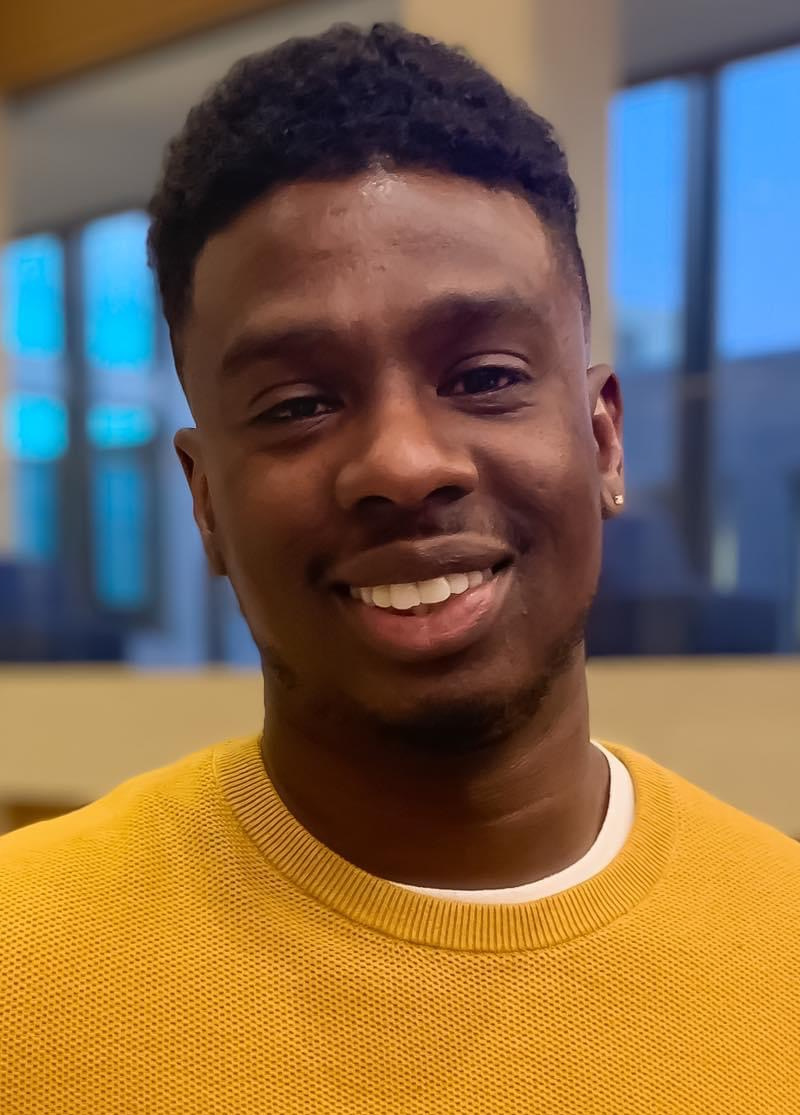 Tony Omega
Advisor, Waterbury Campus
Tony Omega was born in Ft. Lauderdale, Florida, but he was raised in Connecticut since he was 9 years old. He completed his undergraduate studies at UConn in 2009, earning a BA in Political Science, and he also pursued minors in African American Studies and English. Tony's passion for education and counseling led him to pursue a master's degree, which he received from Central Connecticut State University in 2014. His master's program specialized in Counseling, with a focus on Student Development in Higher Education.
Tony's professional journey began in November 2013 when he joined UConn as an Academic Advisor at the Storrs campus. Over time, he made a transition to the Waterbury Campus, where he has been dedicatedly working ever since.
Currently, Tony resides in New Britain, CT, along with his family, which includes his fiancé Marsha, and their two sons, Jaxon and Jace. They also have a lovable pitbull-mix named Marley who is a cherished member of their family.
When Tony is not busy with his career or spending quality time with his family, he indulges in various extracurricular activities. He has a particular passion for staying active and enjoys activities such as working out, training, and bike riding.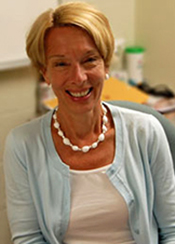 Pat Harkins
Advisor, Storrs Campus
Listening is the key that helps advisor Patricia Harkins discover what each individual student needs to accomplish his or her goals. "I try to probe a lot to find what they're interested in -- what works well for them, what helps with their career plans," said Harkins, Assistant Director of Bachelor of General Studies (BGS) and Non Degree Programs. When she counsels adult students at the Storrs campus, discussions can cover anything that might make the pathway to graduation easier, from big issues like weighing course load priorities to mundane "nuts and bolts" matters like library resources or avoiding campus parking hassles.
Harkins assures all of her students that they can succeed. Lack of confidence can be a concern for BGS candidates coming into the program wondering if they can handle the competing demands of work, family, and education. "They haven't been in school for a long time, they're not confident of their abilities, they have no idea how to do library research, they've forgotten how to write a paper – the whole gamut of challenges you would expect an adult student might encounter," Harkins explained. She helps them work through these common worries practically, adding that she and her students stay closely in touch throughout the semester.
Harkins began her working career in banking, but a desire to teach persistently drew her away from the corporate world. "Probably the most crucial part of my background is the fact that I've been in school myself as a working adult almost nonstop for the last 15 or 16 years," she said, recalling the stress of working while pursuing UConn graduate degrees. The experience left her with a great deal of empathy for her BGS advisees. "I walked their walk for many, many years. So when they say they're struggling to get a paper written or they're tired and they don't want to go to class or it seems like it's going to take them forever to finish, I know exactly what they mean -- I used to think, 'I am never going to finish.'"
After doing administrative work for UConn's School of Business and Center for Continuing Studies, Harkins completed her studies in Adult Learning by working on a serendipitous project -- a BGS Transitions Course developed to facilitate a return to college by adult students. "The whole purpose of my dissertation was to help students to return to college. I taught that course, I did my research on that course, and that's also a really rewarding part of my job."
Apart from Harkins' work in the BGS program, she also counsels a select number of younger "traditional age" students who are attempting to resume their studies after dismissal from the University for academic reasons. Her charges are especially determined to succeed.
"In order for them to get back into the University, they have to come back as a non-degree student. That's their only choice," Harkins said. "I find that because they have done so poorly for so many semesters, they are really beaten down. They don't see a lot of hope, their GPA has really taken a hit, they're not sure what they should do, what to do, they don't know who to talk to. They don't even know how to go about getting back into the good academic graces of the University." To reverse the decline, Harkins and her advisees meet weekly to analyze study habits, set immediate goals, and dissect academic history to discover and eliminate what was not working in the past. "We triage things out and we say, what can we work on to make you a more successful student?" Harkins said. The answers frequently involve better planning, enlightening students about available tutoring resources, and identifying study habit problems before they can accumulate to damage a student's work. For students who are used to living on the academic edge, even completing course work in a timely manner can make a huge difference.
Harkins tries to keep her students focused and on track and feeling successful, so that they can reapply to the University and get readmitted. "It takes a lot of courage to come back and try again, so I try to support them in doing that as best I can," she said.
Mentoring is also a rewarding part of Harkin's life off-campus. She is involved with the Big Sister program and annually volunteers to help a Hartford high school senior navigate the process of getting into college.
Despite everything she has taken on, Harkins still finds time to enjoy fitness-related activities like running and yoga. "I'm a basketball nut," she confessed. "I played on the UConn women's team in 1975 and '76 ... that was a lot of fun!"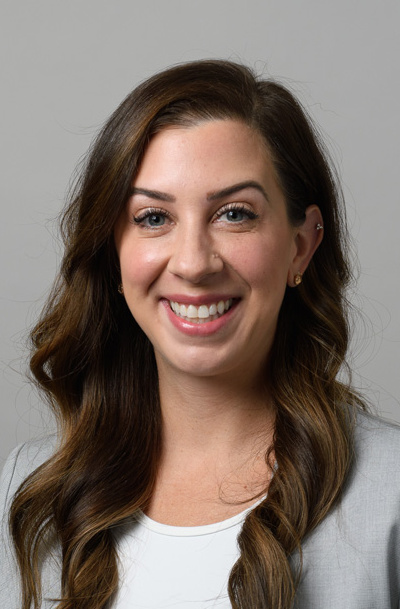 Jennifer Testin
Advisor, Stamford Campus
After eight years as an academic advisor at UConn Stamford, Jennifer Testin now serves as the Assistant Director for Academic Advising for UConn Stamford. During her time at UConn Jennifer has worked very closely with her peers from all areas of advising across all campuses and is excited to join the Bachelor of General Studies advising team. "BGS is an amazing opportunity for students to finish what they started. It allows great flexibility and promotes student success. I'm really looking forward to working with students via this program."
Jennifer holds a BA in Psychology from SUNY College at Buffalo and an MS is College Student Personnel Administration from Canisius College in Buffalo, NY. After spending 6 years working in Student Activities at St. John's University in NYC, Jennifer joined the UConn family in 2012.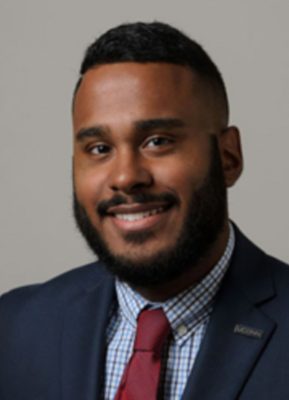 Johnny Banks
Advisor, Avery Point Campus
Johnny Banks didn't have a traditional route to college as most undergraduate students do. No one in his family had attended college before and finances were bad. Johnny didn't believe college was an option at the time, so he decided to pursue another path. After graduating high school, Johnny enlisted in the United States Marine Corps Reserve and later picked up a full-time job to support his family. Eventually, Johnny did attend college and earned a BA in an Individualized Major from Mitchell College.
Johnny joined the UConn family in 2016 as part of the UConn Undergraduate Admissions Office at the Storrs campus. He worked as a Transfer Admission Officer and first became aware of the BGS degree program while in this role. "The BGS program provides so much flexibility for students to earn their degree. This program builds hope for those students that didn't believe earning a degree was feasible".
Johnny now serves as an academic advisor at the UConn Avery Point campus. He works closely with BGS, Non-Degree, and ACES students.